Missing teeth negatively affect your dental health and appearance. You might hide your mouth and have a limited diet.
Thanks to a custom full or partial denture, patients will be able to bite, chew, smile, and speak with restored confidence again.
Learn how the dentists at Fuqua Advanced Dental, serving Keller, Colleyville, and Southlake, TX, can improve your oral health...
How Many People Are Missing Teeth?
According to the American College of Prosthodontists (ACP), around 178 million Americans are missing at least one tooth. How large is the number suffering from complete tooth loss? The ACP estimates this number could be as high as 40 million.
Advanced Age and Missing Teeth
The Centers for Disease Control and Prevention (CDC) estimates that 13 percent of people age 65 to 74 are missing all of their teeth. At age 75 and older, that rate of total tooth loss goes up to 26 percent.
Most Common Causes of Missing Teeth
The most common causes of tooth loss are cavities and
gum disease
. Among people age 65 and older, 96 percent have had at least one cavity, and 68 percent currently suffer from periodontal disease.
Can you tell the difference?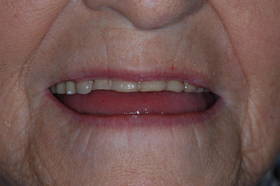 Effective Treatment for Missing Teeth
Insight from Experienced Dentists
Don't let missing teeth compromise the condition of your mouth or the look of your smile. Dr. Steven J. Fuqua and Dr. Tonya K. Fuqua have helped countless patients by using the latest restorative dentistry technology. Their focus is on your well-being and lasting dental health.
Our dentists have more than 25 years of combined experience, and a strong commitment to the Southlake, Keller, and Colleyville communities. We build lasting and rewarding relationships with our patients because we put their needs and comfort first.
To learn more about dentures and other options to enhance your quality of life, we encourage you to contact Fuqua Advanced Dental. You can also schedule a consultation by phone:
5-Star Reviews
Learn How We Put Patients First
Great communication always making me feel at ease. Highly recommend.
View On Google
Dr. Steve is wonderful, kind and professional. Amanda and Cherie are fabulous! I'll never go anywhere else for our dental needs.
View On Google
Full, Partial, and Implant-Supported Dentures
Our Southlake dentists offer both partial and full dentures to meet the restorative dentistry needs of all our patients. The number of missing teeth will determine if a partial denture or a full denture is the right option. Both full and partial dentures can also be supported by dental implants. Not all people are ideal candidates for implant dentistry, however, so we will evaluate you during a consultation.
Partial Dentures
Partial dentures are an excellent option for people who are missing many but not all of their teeth. In these cases, the gaps in the patient's smile are too large to be treated by a dental bridge. Partial dentures will span part of the patient's dental arch and typically use metal hooks secured around nearby teeth to stay in place. Thanks to a partial denture, eating your favorite foods will be much easier, and you will feel more confident about the look of your smile.
Full Dentures
Full dentures are designed to help people who have lost most or all of their teeth. The denture will be custom molded to fit your upper or lower dental arch. This ensures comfort when the denture is in place, and stability when biting, chewing, and speaking. A full traditional denture is held in place using a combination of suction and dental adhesive.
Implant-Supported Dentures
Implant-supported dentures are partial or full dentures that are anchored in place with dental implants. These surgically embedded posts are inserted in the bone and function like the roots of natural teeth. Thanks to the exceptional stability of dental implants, your dentures will not require adhesive creams to stay in place. In addition, dental implants will prevent bone loss in the jaw and gum recession, which are common issues people experience because of missing teeth.
Dentists Who "Go Above and Beyond"
Trully the best dental Office I've ever been to. They even worked after hours to make sure all was perfect, trully going above and beyond in customer service and real professionals of there practices. Recommend everybody to trully experience their office for any Dental work needed no matter how some or big the case may be.....5 thumbs up Fuqua dental in South Lake.
View On Google
I highly recommend Dr Tonya and Dr Steve Fuqua! Always outstanding dental work. Friendly accommodating staff!
View On Google
Take a closer look at how a partial denture replaces lost teeth...