Even when chips, cracks, stains, or other dental imperfections are small, the feelings of self-consciousness they cause can be enormous.
Porcelain veneers can conceal small imperfections and give your smile a look of health, beauty, and symmetry...
Dr. Steven Fuqua in Southlake, TX, is known for placing veneers that look absolutely real and provide an exciting boost in confidence...
Why Enhance Your Smile
with Porcelain Veneers?
Dr. Fuqua's graduate-level specialty training and state-of-the-art technology can allow you to experience:
An Effective Cosmetic Solution
When you choose a dentist like Dr. Fuqua, you can expect that your porcelain veneers will be carefully crafted to look indistinguishable from surrounding teeth and to completely conceal the imperfections that make you hesitate to smile.
A Faster, More Conservative Treatment
Achieving outstanding results may require several visits to our office, but this process can ultimately provide results that would take more than a year to accomplish with orthodontics. Meanwhile, this solution requires far less tissue removal than a
dental crown
.
Lasting Results
By taking excellent care of your oral health and visiting your dentist on a regular basis, your veneers could last as long as 15 years. Dr. Fuqua can help you experience the benefits of this treatment for years to come through technologically advanced treatment.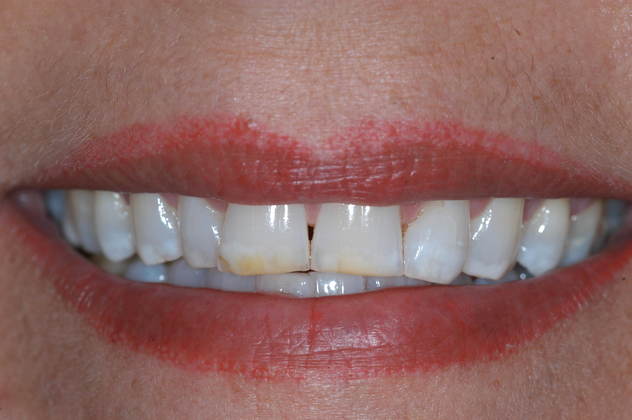 A Closer Look at Dental Veneers
Veneers are ultra-thin coverings permanently bonded to a tooth or multiple teeth to improve their shape, size, and color. They're created from high-quality dental porcelain that looks and feels like natural tooth enamel. The porcelain is stain-resistant, so it will remain beautiful for years to come. To determine your candidacy for porcelain veneers, Dr. Fuqua will perform a comprehensive evaluation at his Southlake office, examining the subtleties of your smile and discussing your expectations and concerns.
Book A Cosmetic Dentistry Appointment Today
Not all veneers are created equal. This solution is widely available, but choosing the right dentist can make all the difference between a costly disappointment and a stunning new appearance that you can feel incredible about.
Dr. Steven Fuqua is renowned for his work in prosthodontics, the branch of dentistry that focuses on creating restorations that replace damaged dental tissue. His mastery of aesthetics and function in creating replacement teeth and other restorations informs his work in porcelain veneers, which has given many patients in Greater Southlake something to smile about. We welcome patients from throughout Keller and Colleyville.
To book your consultation, take a moment to send our dentistry practice a message online or give us a call at
Dr Fuqa is bar none the best, most understand, dentist, oral surgeon in probably America to be honest, I'm 31 years old and he has been working with me and my whole family for the last 17 years. I would recommend him to anyone for ANYTYPE OF DENTAL WORK. If I could give you 10 stars I would
View On Google
I have been going to them for almost 20 years and I have never been dissatisfied with any of my services. My recent procedure has me smiling non stop for the first time in my life! I feel so blessed to have found them. I now look forward to going to the dentist.
View On Google
We May Recommend Veneers If:
You Are in Good Oral Health
Cosmetic dentistry
cannot benefit a smile with an unhealthy foundation. If you have any gum disease, tooth decay, or other issues affecting the health of your smile, they must be resolved before receiving veneers or any other cosmetic treatment.
Teeth Grinding Is under Control
Many of us grind our teeth in our sleep. Unfortunately, this involuntary action can seriously damage porcelain and your teeth. Dr. Fuqua may recommend a custom nightguard to not only benefit your oral health, but also protect your porcelain veneer.
You Have Strong Dental Enamel
The porcelain must be bonded directly to dental enamel. If you have weakened enamel, you may be better suited to another treatment.
Dental bonding
, for example, may be a more compatible solution.
Better Results
through Advanced Technology
Dr. Fuqua believes in combining his education and skill with the latest technological advancements in order to give his patients world-class results:
His on-site dental lab allows him to personally oversee the fabrication of each and every porcelain veneer he places.
Intraoral cameras and chairside monitors allow him to thoroughly assess your smile and help you understand the state of your teeth and gums. This is very important in determining candidacy for dental veneers.
Digital x-rays provide a look at your oral health that would be impossible through a visual exam. This approach is also much safer than taking x-rays using analog technology.
When you choose our Southlake, TX, practice, you can expect that today's most sophisticated tools are being used to make your goals a reality. We welcome patients from throughout Kellar, TX, Colleyville, TX, and surrounding areas.
"Well Worth the Money and Time."
My experience with Dr. Fuqua and his office staff was stellar. I had many restorations, titanium implants and veneers to restore my bite. It took a couple years from start to finish, but I am now so happy with my bite and my smile. It was well worth the money and time. Dr. Fuqua is a perfectionist and it shows in his work. I recommend him 100%
View On Google
Where do i begin? Tonya and Steven started out as our dentist, and they still are, of course; however they've become so much more because of their caring ways! Friends, Dentists, whatever they are, they are all GOOD.
View On Google
Your Consultation
You will meet with Dr. Fuqua to discuss your goals. He will also assess the tooth you wish to treat and evaluate your oral health. Based on this information, he can determine if veneers are the best way to achieve the results you desire.
Prepping the Teeth
In order for veneers to achieve a natural-looking fit, Dr. Fuqua must remove a very thin layer of enamel from the front surface of the tooth or teeth you wish to treat. If you suffer from dental phobia or extreme sensitivity, sedation is available to maintain your comfort during this step.
Dental Impressions
Next, Dr. Fuqua will take impressions of the tooth or teeth, as well as the surrounding teeth. These, along with photographs, will help guide the fabrication of your dental veneer in our onsite lab.
Creating the Veneer
Over the course of a couple of weeks, the porcelain will be carefully crafted to achieve a proper fit and an enhanced appearance.
Feedback
You will return to our office and Dr. Fuqua will be able to show you how your smile looks with the addition of the dental veneer to the tooth. At this time, you will be able to tell us about any changes needed to achieve the results you envision. It is important to understand that this process may require more than one visit as we make the requested refinements and strive to meet your satisfaction.
Permanent Placement
Once you are happy with the look of the dental veneer, it will be attached to the front surface of your tooth using a strong dental cement. If any changes are needed in order to achieve a comfortable bite, they can be made at this time. After you leave our office, if you find that your veneer disrupts your bite in any way, we can schedule an appointment as soon as possible for further adjustments.